Coronavirus in Texas: Despite green light, some movie theater chains wait to reopen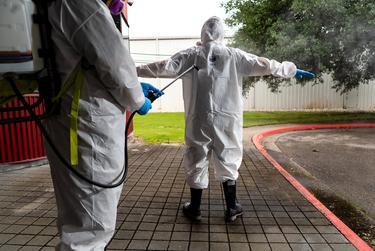 Tuesday's biggest developments:
Texas reports 874 new coronavirus cases and 27 additional deaths
Despite green light, some move theater chains wait to reopen
Trump praises Abbott's moves to reopen Texas' economy
Texas reports 26,171 cases and 690 deaths
[1 p.m.] Texas reported 874 more cases of the new coronavirus Tuesday, an increase of about 3% over the previous day, bringing the total number of known cases to 26,171. Two new counties reported their first cases Tuesday; over 80% of the state's 254 counties have reported at least one case.
Harris County has reported the most cases, 5,827, followed by Dallas County, which has reported 3,105 cases. See maps of the latest case numbers for each county and case rates per 1,000 residents.
The state has reported 27 additional deaths, bringing the statewide total to 690 — an increase of about 4% from Monday. Harris County reported five additional deaths, bringing its total to 98 deaths, more than any other county.
As of Tuesday, 1,682 patients are known to be hospitalized in Texas. That's an increase of 119 patients from Monday. At least 300,384 tests have been conducted. — Carla Astudillo
Despite green light, some move theater chains wait to reopen
[11:32 a.m.] While Gov. Greg Abbott gave movie theaters the go-ahead to reopen on Friday, some of the state's largest theater chains said they wouldn't open this weekend.
"Opening safely is a very complex project that involves countless new procedures and equipment, all of which require extensive training. This is something we cannot and will not do casually or quickly," the Alamo Drafthouse Cinema tweeted.
Businesses that do reopen Friday — retail stores, restaurants, movie theaters and malls have all gotten approval to reopen in Texas — must operate at 25% capacity, Abbott said. AMC Theatres and Cinemark said they expect to reopen in the summer when blockbusters like Disney's "Mulan" and Warner Brothers' "Tenet" are scheduled for release, Deadline reported.
"To be able to open, we also need a line of sight into a regular schedule of new theatrical blockbusters that get people truly excited about returning to their favorite movie theatres," AMC Theatres said in a statement. — Stacy Fernández
Trump praises Abbott's moves to reopen Texas' economy
[9 a.m.] In a tweet this morning, President Donald Trump praised Gov. Greg Abbott for taking steps to reopen the state's economy, which will be done in phases and begin on Friday.
"Texas to open businesses in phases beginning Friday," the president wrote. "Great job being done by @GregAbbott_TX."
On Monday, Abbott announced that the state's stay-at-home directive would expire at the end of the month. Texas is opening restaurants, movie theaters, retail stores, malls, museums and libraries at 25% capacity.
Abbott said that White House coronavirus adviser Deborah Birx said Texas' reopening plan "was great."
The praise from Trump today comes as some of Texas' hardline conservatives agitate for a speedier reopening process. But in some cases, a hasty reopening has drawn rebuke from the president. Last week, Trump dinged Georgia Gov. Brian Kemp for allowing bowling alleys, tattoo parlors, gyms, nail and hair salons and restaurants to reopen.
"I want them to open," Trump said of businesses, "and I want them to open as soon as possible and I want the state to open. But I was not happy with Brian Kemp. I will tell you that." — Alex Samuels
Disclosure: Alamo Drafthouse Cinemas has been a financial supporter of The Texas Tribune, a nonprofit, nonpartisan news organization that is funded in part by donations from members, foundations and corporate sponsors. Financial supporters play no role in the Tribune's journalism. Find a complete list of them here.

Source: Texas Tribune