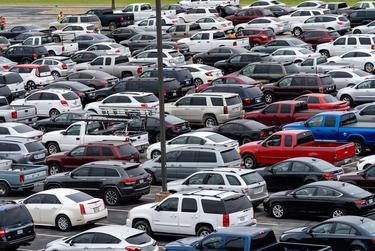 Thursday's biggest developments:
State expected to release updated information about coronavirus cases
Texas lawmakers invited to join task force on reopening U.S. economy
Texas Tech expands its financial aid program
Texas lawmakers invited to join task force on reopening U.S. economy
[10:49 a.m.] The Trump administration is seeking a bipartisan group of lawmakers from around the nation — including three Texans — to join a task force on reopening the economy, Politico reports.
On the U.S. Senate side, both U.S. Sens. Ted Cruz and John Cornyn were invited to join the committee. U.S. Rep. Henry Cuellar, D-Laredo, who narrowly won his primary race last month, was also asked to join.
U.S. Rep. Kevin Brady, R-The Woodlands, was also picked for the task force, according to his office.
During a conference call with reporters late Thursday morning, Cornyn confirmed he was joining the task force and had just spoken with Trump about it on the phone.
"In a way, this kind of formalizes what we are already doing … which is talking to our constituents and … the experts and getting as well-informed as we can because I think this is going to be the No. issue for our time," Cornyn said.
Trump has been actively pushing for the nation's economy to reopen during the coronavirus outbreak, warning that a ruinous economy and a total shutdown could be worse than the contagion itself. In Texas, Lt. Gov. Dan Patrick has also been a vocal supporter for reopening the state's economy.
Gov. Greg Abbott on Friday will lay out his plans to begin reopening the Texas economy, he previously confirmed to KXAN's Wes Rapaport. — Alex Samuels and Patrick Svitek
Texas Tech expands its financial aid program
[9:02 a.m.] Texas Tech University is expanding its financial aid program starting with the Fall 2020 term.
The Red Raider Guarantee program will cover tuition and mandatory fees through federal, state and university funds. To qualify, students must be Texas residents enrolled full time, have a gross family income of $65,000 or less and demonstrate financial need. Currently, students eligible for the program must have a gross family income of $40,000 or less.
There is no separate application for the Red Raider Guarantee, but to be considered, students have to apply and be accepted to the university, as well as have a complete financial aid file by Jan. 15, the state's priority deadline.
Incoming freshmen who qualify for the financial aid program can be eligible for up to eight semesters of aid, and transfer students with associate degrees can receive up to four semesters of aid. Taking 12 credit hours or more in a semester determines full-time enrollment. — Clare Proctor
Texas A&M scholars warned years ago that U.S. was not prepared for the next pandemic
[5 a.m.] Three Texas A&M University pandemic scholars warned years ago that the United States was not ready for the next pandemic, the Houston Chronicle reported.
"It is not a matter of if, but when, the next disease will sweep through the world with deadly and costly consequences," Christine Blackburn, Andrew Natsios and Gerald Parker wrote in an article in 2018 published on an academic website called The Conversation.
The article pointed to vulnerabilities in global supply chains — and warned of a possible shortage of N95 masks if an epidemic hit a certain spot in Asia.
"This interconnectedness of the global economy and the expansiveness of medical supply chains means that a disruption anywhere along the line could spell disaster worldwide," the article said.
The authors recommended creating a White House position to focus on pandemics as threats to national security.
Texas reports 15,492 cases and 364 deaths
[5 a.m.] Texas officials on Thursday are expected to release the latest information about coronavirus cases in Texas. On Wednesday, Texas reported 868 more cases of the new coronavirus, an increase of about 6% over the previous day, bringing the total number of known cases to 15,492. The state reported 46 additional deaths, bringing the statewide total to 364 — an increase of about 14% from Tuesday.
As of Wednesday, 1,538 patients were known to be hospitalized in Texas. That was an increase of 129 patients from Tuesday. At least 151,810 tests have been conducted. Here are maps and charts showing how coronavirus has spread across Texas. — Mandi Cai
Disclosure: Texas A&M University and Texas Tech University have been financial supporters of The Texas Tribune, a nonprofit, nonpartisan news organization that is funded in part by donations from members, foundations and corporate sponsors. Financial supporters play no role in the Tribune's journalism. Find a complete list of them here.

Source: Texas Tribune