Downtown Bryan Bar Owner Reportedly Claims Death Threats Sent to Reporter and His Dog Provoked by "Similarly Hard to Stomach" Replies

While we have not seen the social media posts ourselves, KBTX News Director Josh Gorbutt, notified Brazos Reporter of the following reports being made in relation to a story we recently published, "You are going to die… I'm excited for your dog too" Downtown Elixir and Spirits sends reporter barrage of harassment and threats.
Gorbutt notified The Reporter, "I've also seen separate reports that suggest the conversation that was posted has been edited to remove replies from you, some of which Mr. Batson alleges were similarly hard to stomach. Can you provide a complete readout of the conversation, particularly what replies you made?"
The Reporter forwarded the requested screenshots, a copy of an email sent to authorities, and the following statements:
Statement to KBTX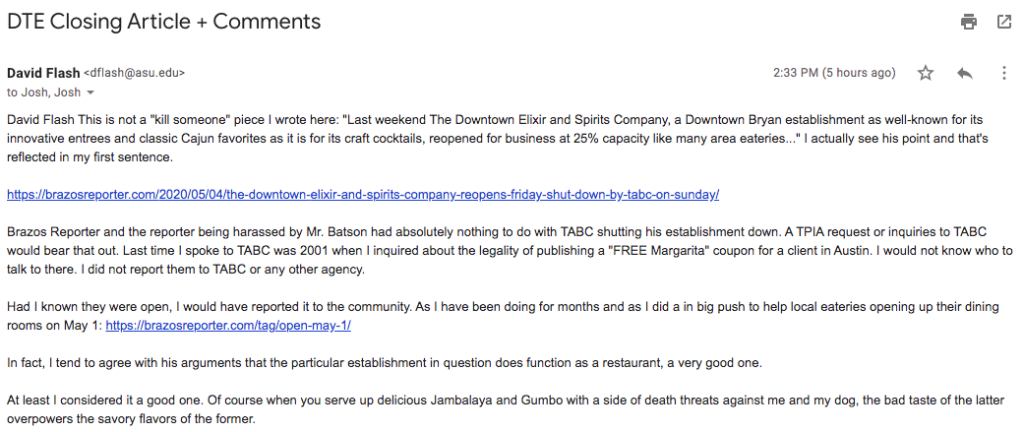 This is not a "kill someone" piece I wrote here: "Last weekend The Downtown Elixir and Spirits Company, a Downtown Bryan establishment as well-known for its innovative entrees and classic Cajun favorites as it is for its craft cocktails, reopened for business at 25% capacity like many area eateries…" I actually see his point and that's reflected in my first sentence.
https://brazosreporter.com/2020/05/04/the-downtown-elixir-and-spirits-company-reopens-friday-shut-down-by-tabc-on-sunday/
Brazos Reporter and the reporter being harassed by Mr. Batson had absolutely nothing to do with TABC shutting his establishment down. A TPIA request or inquiries to TABC would bear that out. Last time I spoke to TABC was 2001 when I inquired about the legality of publishing a "FREE Margarita" coupon for a client in Austin. I would not know who to talk to there. I did not report them to TABC or any other agency.
Had I known they were open, I would have reported it to the community. As I have been doing for months and as I did a in big push to help local eateries opening up their dining rooms on May 1: https://brazosreporter.com/tag/open-may-1/
In fact, I tend to agree with his arguments that the particular establishment in question does function as a restaurant, a very good one.
At least I considered it a good one. Of course when you serve up delicious Jambalaya and Gumbo with a side of death threats against me and my dog, the bad taste of the latter overpowers the savory flavors of the former.
Text of Response to KBTX Question on Alleged "Similarly Hard To Stomach Replies"
That's a false narrative. Just like it's a false narrative I turned them in to TABC. I had no idea they were even open. If I did, I would have published about it.
My last communication with Batson was April 20, 2020. He messaged me. He had posted on facebook bragging about a black market haircut. I made a comment that it wasn't cool to do that. I have friends in the industry scraping by to do the right thing. But deleted it quickly. It wasn't a mean comment, but I just decided there were better ways to spend my time than commenting / replying on his thread. But then he messaged me. I did reply.
Prior to that, on 12/18/19, 6:02 PM, I messaged him this link: https://brazosreporter.com/2019/12/19/3rd-floor-cantina-opens-new-years-eve-in-downtown-bryan/ (No other content or message besides the link. It's about 3rd Floor Cantina's opening.)
That was the totality of our communication prior to this:
Message 1: Things are going to be very very bad for you. Get health insurance.
Message 2: You are going to die.
Message 3: I got your address from the people at Black Water Draw.
Message 4: I'm excited.
Message 5: Very excited.
Message 6: I'm excited for your dog too.
Message 7: How does that make you feel?
Message 8: You can't report any of that because it's just the natural course of things?
Message 9: This is fun for me…
I replied after message #9. Prior to that, when the first three messages came in. I had called Bryan PD and was instructed to call my county sheriff immediately.
When the threat about my dog came in, I was already on the phone with the sheriff's office.
The totality of my replies, all of the "leave me alone" nature and extremely brief, are posted here: https://brazosreporter.com/2020/05/05/you-are-going-to-die-im-excited-for-your-dog-too-downtown-elixir-and-spirits-sends-reporter-barrage-of-harassment-and-threats/
I was scared to death for the safety of myself and my loved ones.

Source: Brazos Reporter